GEOCACHING
GEOCACHING WITH MI-TRALE – JOIN THE GLOBAL ACTIVITY – MORE SUMMER FUN
Go to the App Store or Google Play and download this Geocaching app.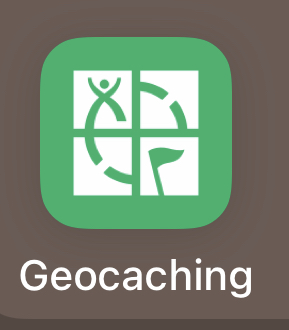 Also go to your application store to find the MI-TRALE sponsored map app called "Michigan UP Trails".
"Geocaching is an outdoor recreational activity, in which participants use a Global Positioning System (GPS) receiver or mobile device and other navigational techniques to hide and seek containers, called "geocaches" or "caches", at specific locations marked by coordinates all over the world. A typical cache is a small waterproof container containing a logbook and sometimes a pen or pencil. The geocacher signs the log with their established code name and dates it, in order to prove that they found the cache. After signing the log, the cache must be placed back exactly where the person found it. Larger containers such as plastic storage containers (Tupperware or similar) or ammunition boxes can also contain items for trading, such as toys or trinkets, usually of more sentimental worth than financial. Geocaching shares many aspects with benchmarking, orienteering, treasure-hunting, letterboxing, waymarking (as defined by Wikipedia)"
MI-TRALE sponsors up to 15 caches along the trails on various types of terrain in wooded areas, here in the Western Upper Peninsula of Michigan. They vary in size from large to micro . They are categorized as easy to find, so even novice players can enjoy them and can be enjoyed by the whole family.
The caches contain trinkets to trade, including items that represent the 7 wonders of the world, and Copper Key Chain Medallions. The western Upper Peninsula has a very significant history in Copper Mining, so we decided to share a "bit of copper" with you. In fact folks can still enjoy underground mine tours in the area such as "Adventure Mining Co" https://adventureminetours.com/ or the copper mining history at the Keweenaw National Park in Hancock MI https://www.nps.gov/kewe/index/ You should never be bored on your visits to the beautiful UP.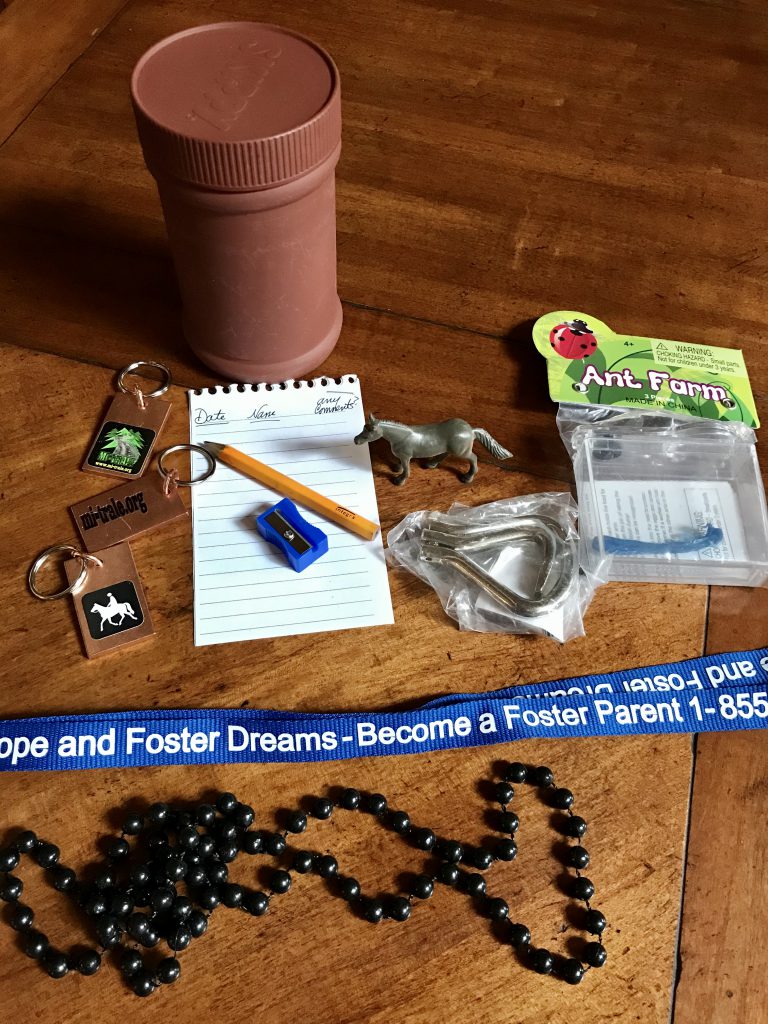 Another significant items you might find in our caches are "Travel Bugs". Each travel bug is tagged with a travel code and registered at geocaching.com, that identifies it as it travels the world. Examples of when people have shared their story, "Ted The Turtle", a Travel Bug, visited live turtles in a grade school in California. Another Travel Bug has traveled 18,480 miles, so far.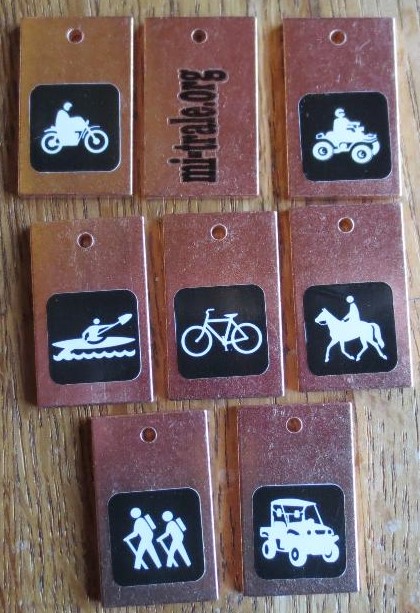 When you visit geocaching.com you will find the names of our caches, waypoints and even hints to help you find them. Hints such as "Pit Stop Time", "Lucky 147" and "3 Trees". When you register your find with geocaching.com, you can share your adventures. We like hearing from you. Did you enjoy the trails? Did you like the Cache? Did you have fun? Geocache.com shares your find with us, and we sure like knowing that you enjoy geocaching on our beautiful trails.