Trail Updates and Alerts
This page is a place we will post information regarding trail cautions, closures, re-routes and additions of new trails  
2017
June 27, 2017 Ontonagon to Rockland Rail Grade Work Scheduled
MI-TRALE is announcing that work to prepare the Ontonagon to Rockland (OR) rail grade for recreational use will begin on July 12th. Angelo Luppino, Inc., was awarded the contract to reclaim 12.3 miles of the abandoned rail grade to form a stabilized base for a multi-use recreational trail. The project consists of pulverizing/milling the in-place ballast and underlying material, spreading the material once pulverized, adding water as required, then shaping and compacting the resulting mixture to DNR recreational trail specifications.
The rail grade will be closed to all recreational users during the work, which is scheduled to be completed by August 19, 2017. Don Helsel of MI-TRALE stated "MI-TRALE looks forward to completing this project so that this section of trail connecting the villages of Ontonagon and Rockland can be opened and be able to support our multi-use recreational users." Helsel further stated "As soon as construction is completed and approved by the DNR, MI-TRALE will be installing the required signage so that this trail can be opened for ORV and snowmobile use"
MI-TRALE would like to thank the DNR for approving the grant request to fund this project with ORV license revenue, and the local units of government (Ontonagon & Rockland) for their ongoing support of the project.
MI-TRALE Board
May 26, 2017 – CAUTION: BN Route – there is a bad/rough section of BN Route between M38 & M26 crossings and north of the trestle bridges (4) as shown on the map where logging took place and there was damage to the Route please use caution and try not to damage the trail any more when traveling through this area. Thank you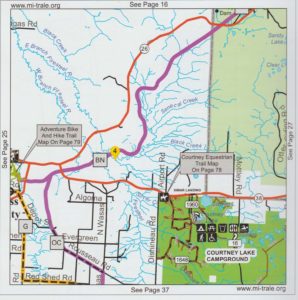 May 15, 2017 LL Route
Due to repairs pending the LL Route has been re-routed through the town of Paulding using a legal Highway Right of Way on US Hwy 45. Please follow the signs and travel with the flow of traffic when on US Hwy 45. This re-route will remain most of the summer