Maps
MICHIGAN UP TRAILS is a FREE mobile app that
MI-TRALE created for all recreational trail users.
The app has our 500+ mile ORV trail system, Ottawa National Forest trails and roads open to ORV's, Horse trails, bike, hiking and water trails, points of interest, trip planner that includes pre-planned rides, food, fuel, lodging and services and more. Plus, the base map on the app has all town, county and state road names.
We developed this app to share our trails with others, so trails could be added or removed as needed, emergency alerts could be posted immediately to notify riders of dangers and businesses could sign up to advertise anytime of the year.
App Advertisement opportunities are available CLICK HERE
---
Multi-Use Trails Guide for the Western Upper Peninsula of Michigan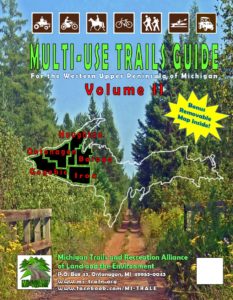 The 8 ½ X 11 spiral bound book has over 69  plat style map pages with amazing detail! (page shown below) There is also a bonus removable map inside! The guide includes our 550 mile ORV trail system, 14 miles of horse trails, over 12 pages of Water Trails, and mountain bike trails. MI-TRALE is partnered with the Ottawa National Forest which allows us to include over 2,000 miles of ONF roads open for ORV use. The book will show Points of interest, Destination rides, 100's of Photos, Food, Fuel, Lodging, Services and so much more!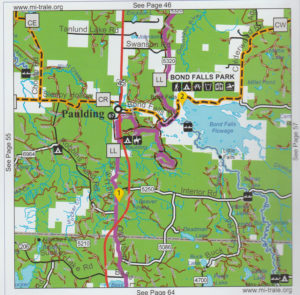 Buy Now using PayPal button below 
$15.00 each/ includes shipping in United States only
MI-TRALE Map
P.O. Box 43
Ontonagon, MI 49953-0043

(Make sure you include your name, mailing address)
---
2020 Trails Map
We will be producing a paper folding map that we are hoping to have available by the End of August 2020
Check back for more details
---
Info call Linda @ 906-827-3208
---
Please Support our Map Sponsors

Adventure Mine Greenland
Antonio's Restaurant, Bergland
Algomah Honey House, Greenland
AmericInn, Iron River, on trail
Amsoil Synthoil Supply Hubbell
Baraga Convention Center  L'Anse
Baraga State Park Baraga ORV friendly, on trail
Bel Air Motel Land O'Lakes WI, on trail
Bergland Bay Bar Bergland MI
Big Buck Cabin & 38 Lodge, Greenland
Big Valley Ford, Ewen MI
Borseth Properties, Ewen MI
Char's Cafe, Bruce Crossing
Citizens State Bank, Ontonagon MI
Cloverland Motorsports Inc. Ironwood
Coleman Engineering, Ironwood MI
D.A. MacPherson Chrystal Falls
Domitrovich Realty, Ontonagon MI
Down Wind Sports, Houghton MI
D's Base Camp Resort, Toivola, on trail
Dutch's Old Bar, Marenisco
Ewen Building Supply, Ewen MI
Ewen Gas Mart, Ewen
Gateway BP, Land O' Lakes WI
Gateway Lodge Land O' Lakes WI, on trail
Gogebic Lodge & Restaurant, Marenisco
Gustafson Excavating, Trout Creek MI
Hannula Insurance, Lake Linden MI
Harvest Country Market, Mass City MI
Headwaters PolarisWatersmeet
Henry's Inn, Rockland MI
Hoop' N Holler Bar & Grill, Lake Gogebic
Hoppy's Bar & Grill, Kenton
Jay's Resort, Watersmeet MI
Joe's Auto Service & ATV Guide Service, Bruce Crossing
JW's BBQ & Brew, Bergland
Konteka, White Pine, on trail
Krupp's Mini Mart, Twin Lakes
Lake Gogebic Area Chamber of Commerce, Bergland
Lake Gogebic Motel, Bergland
Land O' Lakes Recreation Land O' Lakes WI
Lac Vieux Desert Resort Casino, Watersmeet, on trail
Mosquito Inn, Toivola
Marenisco Mini Mart, Marenisco
Marenisco Township, Marenisco MI
Merritts Travel Center, Mass City MI
Mosquito Inn Bar & Grill, Toivola MI
Ontonagon Chamber of Commerce/Ontonagon Historical Society
Pat's Motorsports, Greenland
Peppermill Lodging, Rockland
The Pit Stop, Greenland
Plum Creek L'Anse
Rogers Bar, Watersmeet
Rousseau Bar, Rousseau
Running Bear Resort, Paulding, on trail
Settlers Co-op Gas & Grocery, Bruce Crossing
Superior Shores Resort Ontonagon
The Tackle Box  Land O' Lakes WI
Timbers Resort Bergland
Timberline Sports, Bergland MI
Twin Lakes State Park
Twilly's Bar & Grill, Bruce Crossing
U.P. Chucks Bar & Grill, Kenton
Watton Country Store, Watton
Whitetail Tire, Ewen
Wildlife Refuge Cabins, South Range, on trail