MI-TRALE offers over 520 miles of  ATV, ORV, Multi-Use and Horse trails in the Western U.P. of Michigan
Michigan Trails and Recreation Alliance of Land and the Environment, commonly known as MI-TRALE, is an alliance of multiple trail and outdoor recreation enthusiasts.
Our Mission is: To advance the safe and responsible use of multi-use trails for both motorized and non-motorized trail recreationists, by working towards the development, designation and interconnection of multi-use trails in the Western Upper Peninsula of Michigan.
Multi -Use Trails Guide
Detailed trail maps covering  5 counties in the western Upper Peninsula of Michigan.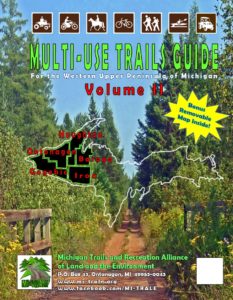 Our Trails Guide Book is the perfect gift for an outdoor enthusiasts! 
For more information about the Trails Guide or to purchase one today Click Here
The Trails Guide is also available at the Ironwood MI & Houghton MI Walmart Stores
To Find us on Facebook click the box above